For those of you familiar to
Nick Chase: A Detective Story
, this is the second game in the series. In
Nick Chase and the Deadly Diamond
you begin in a bar where you receive a curious package. You must find out who sent the package and the mystery of the Deadly Diamond. As the player you are Nick Chase the detective for a majority of the game, but you also switch to roles of different characters that help Nick solve the case. At first it might be a bit confusing, but it adds variety to the story and a lot more challenging puzzles. The style of the game graphics is a Film Noir comic strip, and the environment style is quite retro, although I did spot a computer in the Police Chief's office.
Nick Chase and the Deadly Diamond
is an Adventure/Hidden Object game by Gestalt Games. There is yet to be a Mac release so I played on my HP Laptop which may be a bit out of date since it did not deal too well with the special cursor, something that can be fixed in the neat wallet style Options menu.
Find it here: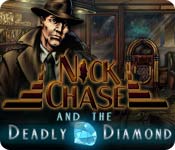 And the first game in the series here: